1-603-886-3874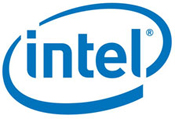 Legendary Intel architecture drives innovation in small form-factor, dense computing
Intel® processors and chipsets form the backbone of our unique "FleXtreme" architecture, allowing power-users of all types to achieve the performance they expect from Intel Architecture in amazingly small and compact designs, while maintaining open-standards flexibility.
NextComputing relies heavily on Intel's market strength and innovation to drive its core business in several key vertical segments, including:
Our entire product line below is available with Intel processors.
Portable workstations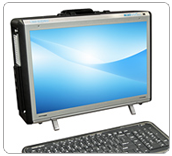 Our flagship NextDimension portable computers are the only mobile workstation systems in their class to support dual Quad-Core Intel Xeon processors, and an incredible 32GB RAM, along with dozes of storage and I/O options. As the world's first "flextop" computer, NextDimension systems combine the power of a workstation into the size of a briefcase.
More about our portable workstations
Rugged portable workstations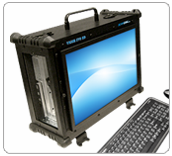 Vigor Evo builds upon NextDimension's compact design, adding an enhanced rugged chassis for harsh environments. This durable, military-grade workstation deploys Intel Xeon processors for critical C4ISR applications, as well as remote broadcast production.
More about our rugged portable workstations
High-density stream computing servers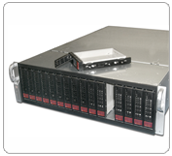 NextServer Evo and the upcoming NextStream server support Intel solutions for customers needing high-density, modular rack-mount systems for mission-critical applications. Where server density and maximum power per watt are a requirement, Intel enables NextComputing to create truly differentiated platforms.
More about our high-density stream computing servers